2016: it has already been 5 years since OZOLEA's foundation. Five years of continuing evolution, during which a lot happened and, thus, deserves to be told. 
The initial goal of supporting dairy farmers all across the globe in their path to sustainability is still ongoing, and has been enriched with new achievements and opportunities. It is a package of new markets, new projects, approvals and experiences.  
All the effort OZOLEA has put into helping the dairy industry reduce the use of antibiotics has given positive answers both to dairy farmers and consumers, allowing the entire dairy supply chain to benefit from this completely new approach to udder issues.
The meaning of "animals raised without the use of antibiotics"
"animals raised without the use of antibiotics" is far from the better-known "antibiotic free" we can find on the labels of some food products of animal origin. The latter is interpreted as if the food product does not contain antibiotic residues.   
Actually, with respect to drug residues in general, any food product of animal origin can be placed on the market only if it does not contain residues, as per pertinent law. Thus, the definition that would make the difference is the former, since it properly indicates that, during farming, no use of antibiotics has occured. 
In dairy farming, mastitis is the first reason for antibiotic usage and the first cause of milk wasted due to withdrawal periods. As we discussed before1, from his field activity, Mike Zurakowski, DVM (Cornell Quality Milk Production Services) was able to verify that around 85% of mastitis cases are mild or moderate. These are cases that do not require a systemic and immediate treatment: thus, waiting 24-36 hours for the treatment will not change the result. In this range of time, we evaluate for an autonomous regression of the disorder. 
The remaining 15% of cases should be treated immediately and systematically.
That 85% of cases leaves room for innovative, effective, safe, harmless and sustainable solutions to deal with udder issues along with the implementation of best management practices. 
The main goal of OZOLEA's approach to dairy farming is the reduction of unnecessary antibiotics, that is referred to antibiotic treatments that happen to be useless. Two first results have been achieved on two Italian dairy farms: the Morandini family's Agrimor and Carlo Maino's McElan.
Agrimor, a small dairy supply chain without the use of antibiotics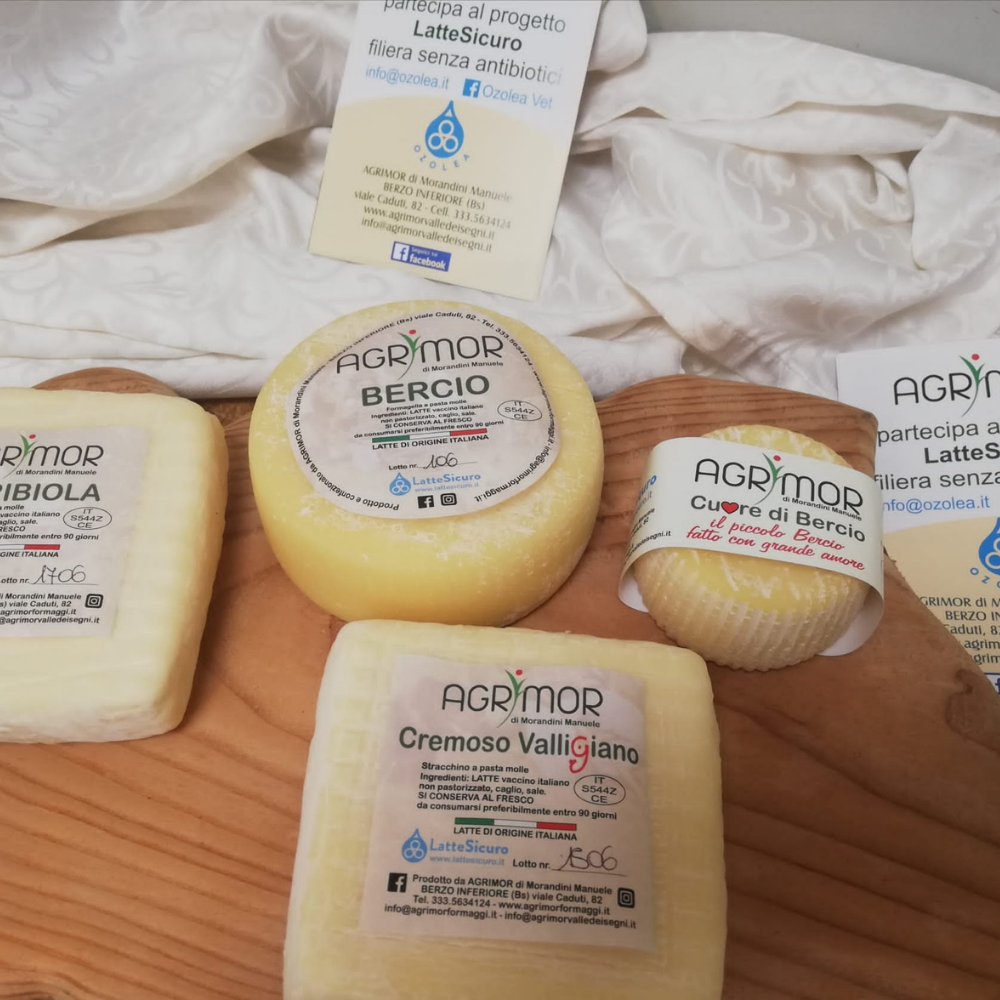 Agrimor is a small dairy farm and creamery in Val Camonica (Italy), owned by the Morandini family. On the labels of Agrimor products you will find the LatteSicuro (literally, Safe Milk) logo.
What does it mean? It means that Agrimor, thanks to the use of OZOLEA-MAST and efficient herd management, has substantially reduced the use of antibiotics, while increasing milk quality and animal welfare.
Delia Morandini, who maintains customer relations, told us about a step that is not always easy for producers: gaining consumers' confidence. Delia combined the efforts made in the herd and in the creamery, conveying their meaning to consumers. 
"When I present Agrimor products to new customers, I am very keen to highlight our project, LatteSicuro. It is essential that the consumer is aware of our commitment to ensure healthier and more sustainable milk. Today consumers are increasingly conscious about what they eat. Agrimor feels it can offer selected and guaranteed products, since WE are the first consumers!".
Agrimor products have also got attention by peculiar market shares: "On several occasions we have been chosen over other cheaper but less appreciated products. This is because, yes, OZOLEA makes milk safer and tastier! And we are more and more proud to be OZOLEA's partners".
McElan, the first "animal raised without the use of antibiotics" certified dairy farm  
Carlo Maino is the owner of McElan dairy farm, which has been able to certify his approach to raising animals without the use of antibiotics. This path of improvement of herd management started with the introduction of OZOLEA-MAST in the routine of the farm. 
"I met OZOLEA at Fieragricola in Verona five years ago. OZOLEA-MAST was presented along with your claim "Sell your milk, don't waste it!", meaning that there is no economical waste along with the use of this product. I have always had an eye for those non-drug veterinary products and solutions that could help me wait for the use of antibiotics and conventional veterinary medicine. I started using it, and from that point I created my company path towards the recent certification", Carlo said. What other changes have been made? "Once we achieved some good results with major udder issues, my vet and I thought about selecting specific natural products to manage other dairy cows' health issues. OZOLEA-MAST works if used at the very first sign of udder tissue imbalance. One can deal with udder issues only if specific attention is followed. I insist on good milking routine and best hygiene practices, and spend one hour a week to train my staff, always remembering clear principles of good milking routine and environmental management".
OZOLEA's process of internationalization 
In 2020, OZOLEA started shipping its leading product, OZOLEA-MAST, in the United States. Today, the number of US dairy farmers purchasing OZOLEA-MAST is increasing and there is an ongoing negotiation process to be available locally. In the EU market, from late 2020 OZOLEA-MAST is present in different countries:, Hungary, Romania, Latvia, Ireland and, more recently, Denmark. 
US dairy farmers' needs are similar but slightly different from EU milk producers'. In fact, from 2022, the European Union will face the application of the new Regulatory framework on veterinary medicinal products2 that aims at the reduction of antimicrobials used, with the superior goal of tackling antimicrobial resistance: this means a forced need to find alternative solutions to antimicrobials.
OZOLEA products and protocols perfectly fit in the context.
OZOLEA-MAST approved as a compliant input for organic dairy farming in Wisconsin 
In April 2021, OZOLEA-MAST was approved as compliant input for organic dairy farming in Wisconsin, one of the US federal states with a high concentration of organic dairy farms3.
Prevention in US organic dairy farming is vital, since, in case of health issues, farmers can rely only on a group of products approved as compliant inputs and no antibiotics, which are not allowed in organic dairy farming. Many of the products approved are restricted in how and what situations they can be used. This approval represents a big step both for OZOLEA and US organic milk producers, since a non-drug and non-chemical product for udder issue management is now available for organic dairy farming in Wisconsin.
SSafeMILK – towards a Sustainable, Safe and Environmentally Friendly MILK Chain 
OZOLEA's SSafeMILK project is a circular chain production model in which all the players benefit from: the farmers effort is adequately valued for a more sustainable livestock production. In this context, OZOLEA provides worldwide with validated non-pharmaceutical protocols that are safe and innocuous both for animals and for milk consumers, in order to switch the actual model of using pharmaceuticals for productive purposes to a new sustainable model of farming able to maintain animals healthy and productive without manipulation of life-saving drugs.
Many dairy farmers, dairy processors and veterinary products distributors have already taken part in this project which will also benefit food consumers for a safer, more sustainable and environmentally friendly dairy supply chain. 
After these five years of successful achievement, OZOLEA is ready to welcome other players, such as dairy processors, in this project. 
1 When dairy cows will not benefit from the use of antibiotics.
https://www.ozolea.it/when-dairy-cows-will-not-benefit-from-the-use-of-antibiotics/
2 Reg. (EU) 2019/6 on veterinary medicines applicable from 28 January 2022: are we ready?
https://www.ozolea.it/reg-eu-20196-on-veterinary-medicines-applicable-from-28-january-2022-are-we-ready/
3 OZOLEA-MAST approved as a compliant input for organic dairy farming in Wisconsin.
https://www.ozolea.it/ozolea-mast-approved-as-a-compliant-input-for-organic-dairy-farming-in-wisconsin/