Last Monday we had the opportunity to attend the webinar presented by Jim Davenport, New York dairy producer and National Mastitis Council member, and hosted by the US leading dairy magazine, Hoard's Dairyman. 
Jim Davenport shared the tools used in his dairy farm, Tollgate farm, to ensure only the highest quality milk goes into the tank. Tollgate is one of the 10 family dairy farms that produce the milk for Hudson Valley Fresh Dairy, a local reality that provides dairy products (milk, cream, yoghurt) to consumers with a particular attention to freshness and quality. 
Hudson Valley Fresh also sells dairy products in New York city. 
Jim is a fourth-generation dairy farmer. He got a degree in engineering at the University of Connecticut and worked as DHI supervisor for some years before getting back to dairy farming, where his heart has always been. 
The attention to detail allowed the family farm to be awarded with platinum milk quality awards from the National Mastitis Council. The only dairy farmer in the nation ever to do so, as you can read here.
Let's have a look at basic information about the Tollgate farm, located in Ancramdale since 1993. There are 64 milking cows in Tollgate. The herd consists of 70 purebred Holsteins, with a few Ayrshires descendant from Jim's grandfather's herd started in the 1930s. 
The family manages 140 acres and began shipping milk to Agri-Mark cooperative in 1986. The family puts a lot of effort in maximizing forage in cattle ration (<70% homegrown forage diet). Their milk has an interesting average somatic cell count (SCC) – 33,683 cell/ml from 2020 Agri-Mark Cooperative Data.
What to do to make the cows produce clean milk? Here the points to ponder: 
the cow's environment must be a challenge free zone;

the dairy farmers should know each cow's udder health;

the cow's teat is the most important milk contact surface on the farm;

teat-dipping plays a strategic role in hygiene. 
At Tollgate farm, the family pays great attention to the cleanliness of the stall. Here is where the cows generally spend much time, thus it should always be a clean, dry environment – a tough enemy for bacteria. 
In Davenport's dairy farm, scrubbing away the dirt, investing a lot in fresh sawdust bedding and carrying out good stall maintenance are key actions to make the environment hostile to microorganisms. It is worth noting that here the cows find every morning, after they get back from the exercise, fresh and dry sawdust and a clean place.  
Outside Tollgate, when Jim was a DHI supervisor he had the opportunity to check over 70 herds, and two of these were large dairy farms (3000 dairy cows) with really low SCC. 
What did these large farms have in common? Attention to cleanliness, carried out daily with stall maintenance every day, keeping a constant eye on udder hygiene. 
The most important milk contact cow surface on the farm is the cow's teat. At Tollgate, udder is always pretty clean: this is due to their attention to udder hygiene before and after milking. 
Udder health is worth attention. Properly conducting the California Mastitis Test (CMT) would help identify major udder problems with good accuracy at quarter level. At Tollgate, CMT is used to screen all the fresh cows before they enter the tank. It takes time to get acquainted with the CMT, it is a matter of practice and experience. 
When the cow does not show a good result at CMT, milk is cultured. 65% of cultures tests negative: the cow being healthy and with robust immunity will help, also in case of treatments when necessary.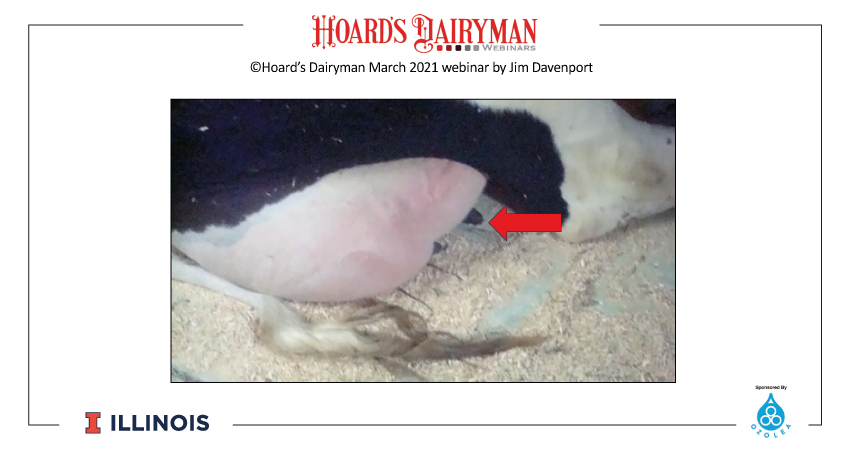 The thing Jim wants to know about each cow is the individual SCC: this value influences the bulk tank SCC and it is an important indicator of the cow's udder health status.
At Tollgate, there are no major issues with pathogens: E. coli and Klebsiella are extremely rare, while they had some gram-negative bacteria and no occurring environmental microorganisms.
Things to do before and after milking are also important to produce clean milk. The first step at Tollgate farm, before forestripping, is checking each cow's udder. The point is to detect moisture and dirt by grabbing the teat and observing it, and eventually removing undesired dirt. 
Then they proceed with the milking routine: they forestrip, then pre-dip with a non-return dipper. After waiting for around 60 seconds, they dry the teat with a paper towel and then attach the cluster with minimal or no air intake: the machine must be positioned properly for even milkout. Finally, they remove the cluster when the vacuum has been completely released and post-dip. 
A proper dipping is critical since it helps the dairy farmer to wash away and kill any potential bacteria. The goal at Tollgate is to attach the cluster to perfectly clean teats.
Washing routine involves any tool used to check the cows (CMT paddle) and the dipper. Left-over dip is thrown away, while the fresh product is at good storage conditions.
Jim gave us a good idea of the importance of cow teat as a milk contact surface. 
Imagine you are a microorganism, attached to the teat and you are hungry, thirsty and in dry and hostile environment. Then comes the teat dipper that washes you down to the floor, while the iodine oxidizes your cell wall until you blow up. 
Being in "bacteria's shoes" in this case would not be a good sensation: thus, on our dairy farms we must do anything in our power to make bacteria uncomfortable. 
"It is not rocket science, but you have to care", Jim would say. Even more than this if we run an organic dairy farm.
Copyright: Hoard's Dairyman March 2021 Webinar by Jim Davenport